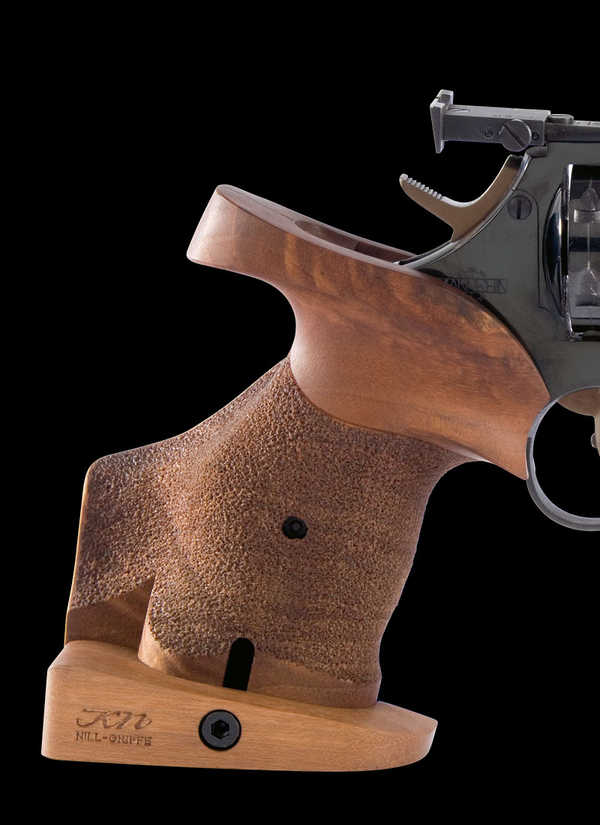 Matchgrips for revolvers
- adjustable, with or without finger grooves
- non-adjustable in standard sizes (80, 85, 90, 95, 100 mm)
- orthopaedic from plastics moulding
The most important connection between the shooter and the firearm is the grip.  Only when this connection is perfect the revolver can be evenly held, shot for shot, in the hand. With decades of practical  experience in the workshop and training at the shooting range, Wilfried Nill and his employees have exactly the wherewithal to optimise the hand position of a firearm. The ergonomically formed grips meet the specifications of the International Olympic Association, the ISSF and other organisations. Over the hand, the horn  (beavertail) runs toward the wrist and fixes the hand from above. Therefore these grips should not be used with magnum loads (no warranty for calibres over .38 special).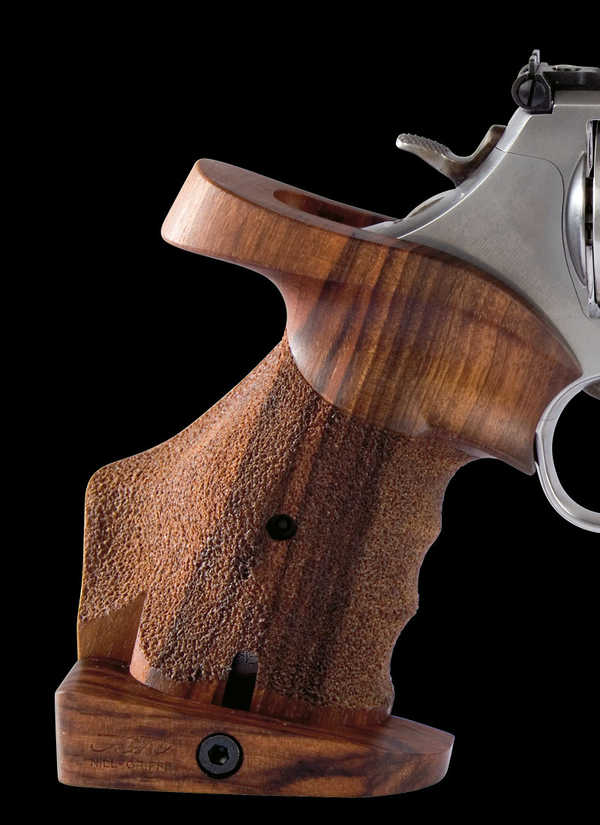 Adjustable match grips with finger grooves
Appropriate finger grooves offer extra grip comfort. The concave moulding enlarges the contact surface of the fingers with the grip surfaces. This reduces the felt recoil. In combination with the complete ergonomics of the grip, these features allow for a longer, relaxed holding of the revolver.
Orthopaedic from plastic moulding
At your personal fitting appointment, a plastic moulding of your hand will be made and, with close attention to detail, all contour elements of the grip will be fine tuned according to the hand form and shooting posture. The result is a grip that fits like a glove and that, when
aiming, seems to find the bull's-eye on its own. Even in protracted competitions the grip fits without pressure points and fatigue.