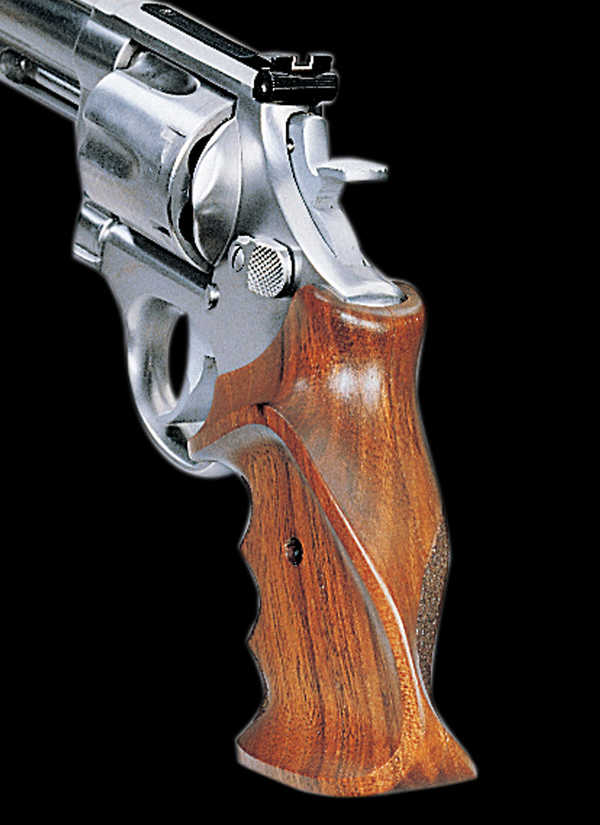 Special grips for revolvers
symmetrical
with finger grooves
rounded grip back
open and closed grip back in different Sizes from S to XXL
with thumb rest
with small fixed palm rest
extended version
with support for the little finger
These grips are modifications from our standard range of products, developed for special needs and shooting disciplines. Many national and international titles have been won by experienced shooters using these distinctly ergonomic grips. They are available in walnut and, depending on the model, stippled or with Rhomlas®. Uncomfortable pressure points are now a thing of the past, and improved handling comfort allows for improved results. With their strongly emphasised ergonomic moulding, these grips fit comfortably and feel as if they merge with the hand. They are available in stippled walnut for left- and right-handed shooters.
"The Master II" for PPC 1500 / Bianchi Cup
These grips are a further development of the SWO_XHO, SWO_YHO and PPC/1500/Bianchi Cup pistol grips. They offer, with a smaller shelf at base for the little finger of the supporting hand, an ideal hand fit. The open back, distinct palm swell and flared form, together with the Rhomlas® surface guarantee confident control. The grips with a closed back have a fuller form than the open backed models. In single action shooting they offer an optimal position for the trigger finger relative to the trigger. For short hands or for double action shooting the open back form is recommended because these grips are somewhat thinner and the trigger finger is about 5 mm forward.
Strongly flared, symmetrical model with an open back strap
A further development of the Phil Hemphill grip but with a completely open back strap. The revolver sits deeper in the hand and the flared base and overall stippled surface lends secure control and ideal conditions for quick series shooting. This type is also available in size s (small) for several revolvers.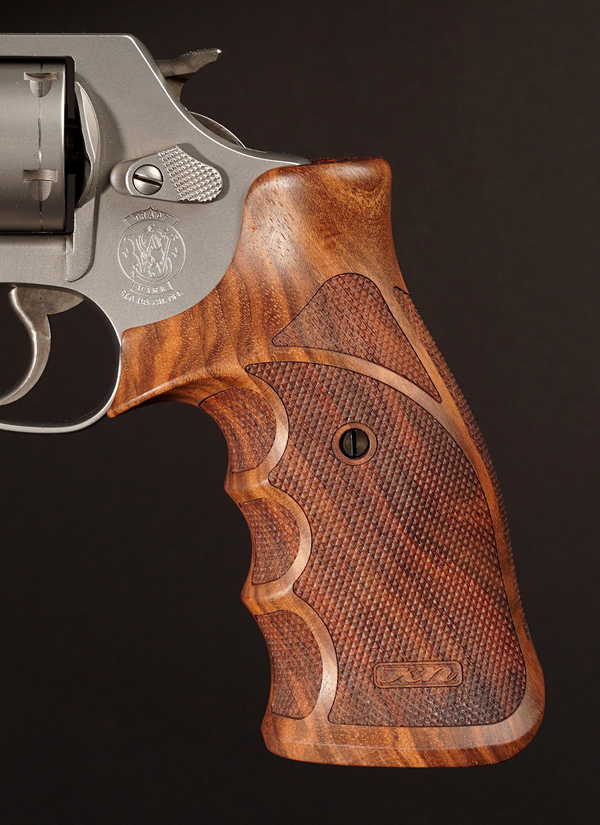 Model Phil Hemphill for S&W J-Frame with rounded back
Based on our thousandfold proven Phil Hemphill grips, we can now offer a comparably flared model for right and left hand shooters also for the small frame. This grip has been developed for the BDMP discipline 5-Shot and fits perfectly in the hand due to its ergonomic shape and its particularly grippy Rhomlas® surface, which we have now also integrated on the back of the grips. This guarantees a secure hold from shot to shot, which is decisive in the Double Action Mode for a repeatable hit rate – and thus for a good result.
Phil Hemphill model, strongly flared,
with a half closed upper back strap
This grip was developed with Lt. Philip Hemphill of the Mississippi Highway Patrol Team and experienced shooters. The flared form and overall stippled surface keeps the gun secure in the hand. With the half closed upper back strap, the revolver sits more steeply angled in the hand, which reduces muzzle jump.
"Phil Hemphill" with a closed back strap and Rhomlas® surface
Here the advantage is with single action shooting or shooters with longer fingers because the hand is set, compared to open grips, about 5 mm further back so that the position of the trigger finger relative to the trigger is improved. The complete form-fit also agrees more fully with the ergonomics of the hand.
With finger grooves, thumb rest and slide palm rest
Thanks to their especially pronounced orthopaedic form, these grips feel especially comfortable to hold. The user experiences a superb feeling while shooting, increasing the confidence level substantially. These grips are available in left- or right-handed versions, in stippled walnut. This type is also available in size XL (extra large) for several revolvers.